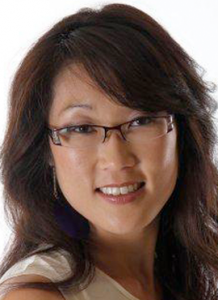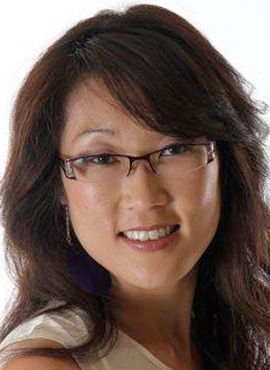 My name is Esther Timewell. I am a Canadian-born-Korean, from Calgary, Alberta. I lived and worked in England, married to a Yorkshireman and poked a pin in the map, relocating us here to Barrie, Ontario! What a life I have lived, but the only thing that has been constant is my trade in Hairdressing. I love it! Who can say they love waking up in the morning to go do a job and have fun?
I have a wealth of knowledge (over 16 yrs) and annually continue my education in strengthening my skills. I don't specialize in one skill but blend many to reach a target and fulfill what my clients' needs are. I do wet/dry cuts, grey coverage and advance color, ombré/foils/balyage highlights, texture/spiral perm, straighten most types of hair including ethnic hair, and certified in kerasilk smoothening treatment.
I listen, I feel the hair and work with products that are gentle with the natural pH (how acidic or alkaline). I believe that using professional quality products will give you the best results in achieving shiny, healthy and manageable hair.
My preferred choice is Goldwell and KMS.
KEVIN – BEFORE AND AFTER
Kevin came in with an overgrown and frizzy style. He naturally has very thick and wavy hair. After the cut his hair is textured with point cutting throughout; without blunt lines so style can be worn straight or naturally wavy. It was styled with Goldwell Flat Marvel smoothing balm and flat ironed to polish fringe.
Click Picture for Before / After Shots
CHRISTINE – BEFORE AND AFTER
Christine had a solid bob cut with slight waves and previous highlights. She has fine hair with medium density. We did a graduated angle bob with texturizing throughout the interior for lift and movement.
Click Picture for Before / After Shots
EMILY – BEFORE AND AFTER
Emily had a grown out red shade and bulky layers style. Her hair is naturally wavy and thick in density.  We decided to reshape in long layers and thinned it out internally (no visible "steps").  The color was neutralized to a warm brunette with natural marbling of lighter tones throughout (no solid "wig" color).Blowdry style with a medium sized roundbrush and KMS hot flex creme. This will product the color from heat fadage and control her frizz.
Click Picture for Before / After Shots