This is what our clients are saying about Gravity Salon
Visit Date: 25 Jul 15
Client Name: Belinda
Styling: Jamie 
Comment:" Gravity Salon is so much more than a hairdressing salon. From Nicole Murphy at the desk, to Ivo, the salon owner, and all of the stylists, at Gravity you will find a group of amazing human beings who just happen to be excellent hairstylists as well. There is a personal touch, hospitality and excellent customer service. The dynamic between my stylist Jamie Dennis and me as a customer is key to the outcome which is always wonderful. She is an intuitive listener and interpreter and she works together with me at every appointment to keep my hair in the best possible shape. Ivo Tiberio and Team, I am so grateful that Barrie is within driving distance. You are the greatest!"
https://ow.ly/Q5E6F
Featured in July/August 2015 issue of Goldwell & KMS Canadian Business Builder
"Talent density is high at Barrie's GRAVITY SALON"
This magazine goes to ALL Goldwell and KMS Salon's in Canada; we are honoured to be chosen and featured in this issue. THANK YOU to our amazing GRAVITY team members and to everyone at KAO (Goldwell /KMS)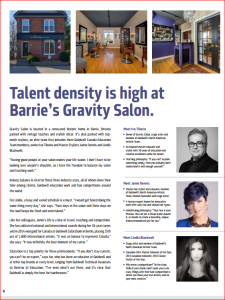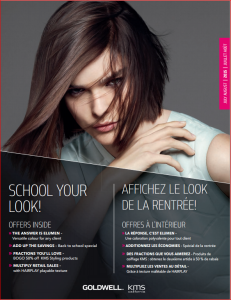 As you walk through the front door and glance around the century home that is Gravity Hair Salon in Barrie, your world class experience begins to take shape. The unique interior architecture, complemented by vintage and chic décor creates an elegant setting for a perfect 'in-the-city getaway' to pamper yourself.
Gravity spans the entire house from top to bottom with salon services on every floor. There is even private space available where you can enjoy a unique experience with some of our most innovative stylists.
Gravity's team of hairstylists and colourists have decades of experience in advanced cutting and styling techniques. They are highly qualified, talented, and committed to ensuring that every client is pampered with one-on-one focused attention.
The salon opened in Barrie in 2010 and after five years of steady growth and success, the salon outgrew its first location and moved to the current location at 206 Bradford Street; a renovated century home with a warm and inviting atmosphere that transforms a simple haircut into a relaxing experience. "We like to think that this is Barrie's little secret," explained Ivo Tiberio when talking about the salon.
Beyond the environment, however, the technical skills are top notch and unmatched in the area. While each stylist brings high energy as well as unique specialties and personalities, the Gravity Salon team is truly inspiring.
As a "boutique environment", Gravity has a more intimate feel, rather than the clinical atmosphere that you see at many salons, which is what makes it so inviting. The clients get more one on one time with their stylists and that means a unique experience for everyone
Click on images for full article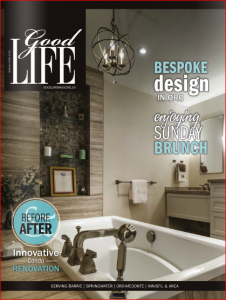 Love to play with your hair on the weekends? Create and rework styles without that pesky product stickiness – see why playable texture is a stylist favorite!
https://www.youtube.com/watch?v=4SkAOcyIEkQ
www.gravitysalonandspa.ca
Visit Date: 11 Feb 15
Client Name: Erika
Overall Rating: 5.00
Stylist: Shanna Rose
Comment: Great consultation, cut & style. Came in based on a recommendation from a friend and will definitely be back.
Visit Date: 11 Feb 15
Client Name: Theresa
Overall Rating: 5.00
Stylist: Ivo Tiberio
Comment: Thank you Ivo you do such an amazing job with my hair and the colour is fantastic,i will definitely tell my family and friends about your salon,Excellent job.
Visit Date: 10 Feb 15
Client Name: Jeff
Overall Rating: 5.00
Comment: Jamie is the best mens hair stylist in Barrie hands down.
Visit Date: 5 Feb 15
Client Name: Gerry
Overall Rating: 5.00
Comment: Simply put I love going to Gravity Salon. It's an instant get away walking through their front door and the team is a delight to be with. Extremely professional and yet very personable.
Thank you Gerry
While she didn't win, we would once again like to extend our congratulations to Lindie Blackwell on being a Finalist for the Contessa Master Colourist Award. It's an amazing accomplishment. The entire team at Gravity is so proud of her incredible work, talent, and creativity!