As you walk through the front door and glance around the century home that is Gravity Hair Salon in Barrie, your world class experience begins to take shape. The unique interior architecture, complemented by vintage and chic décor creates an elegant setting for a perfect 'in-the-city getaway' to pamper yourself.
Gravity spans the entire house from top to bottom with salon services on every floor. There is even private space available where you can enjoy a unique experience with some of our most innovative stylists.
Gravity's team of hairstylists and colourists have decades of experience in advanced cutting and styling techniques. They are highly qualified, talented, and committed to ensuring that every client is pampered with one-on-one focused attention.
The salon opened in Barrie in 2010 and after five years of steady growth and success, the salon outgrew its first location and moved to the current location at 206 Bradford Street; a renovated century home with a warm and inviting atmosphere that transforms a simple haircut into a relaxing experience. "We like to think that this is Barrie's little secret," explained Ivo Tiberio when talking about the salon.
Beyond the environment, however, the technical skills are top notch and unmatched in the area. While each stylist brings high energy as well as unique specialties and personalities, the Gravity Salon team is truly inspiring.
As a "boutique environment", Gravity has a more intimate feel, rather than the clinical atmosphere that you see at many salons, which is what makes it so inviting. The clients get more one on one time with their stylists and that means a unique experience for everyone
Click on images for full article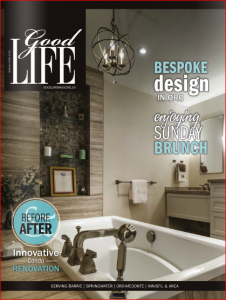 Love to play with your hair on the weekends? Create and rework styles without that pesky product stickiness – see why playable texture is a stylist favorite!
https://www.youtube.com/watch?v=4SkAOcyIEkQ
www.gravitysalonandspa.ca
Visit Date: 11 Feb 15
Client Name: Erika
Overall Rating: 5.00
Stylist: Shanna Rose
Comment: Great consultation, cut & style. Came in based on a recommendation from a friend and will definitely be back.
Visit Date: 11 Feb 15
Client Name: Theresa
Overall Rating: 5.00
Stylist: Ivo Tiberio
Comment: Thank you Ivo you do such an amazing job with my hair and the colour is fantastic,i will definitely tell my family and friends about your salon,Excellent job.
Visit Date: 10 Feb 15
Client Name: Jeff
Overall Rating: 5.00
Comment: Jamie is the best mens hair stylist in Barrie hands down.
Visit Date: 5 Feb 15
Client Name: Gerry
Overall Rating: 5.00
Comment: Simply put I love going to Gravity Salon. It's an instant get away walking through their front door and the team is a delight to be with. Extremely professional and yet very personable.
Thank you Gerry
While she didn't win, we would once again like to extend our congratulations to Lindie Blackwell on being a Finalist for the Contessa Master Colourist Award. It's an amazing accomplishment. The entire team at Gravity is so proud of her incredible work, talent, and creativity!
(Barrie, Ontario) October 28, 2014 – Senior Stylist, Lindie Blackwell, is a finalist in the Master Colourist category at this years Contessa Canadian Hairstylist of the Year Awards presented by Salon Magazine. Lindie's work was selected from thousands of applicants and she is now one of ten category finalists, with the winner to be announced at the Contessa Gala on November, 9th at the Westin Harbour Castle in Toronto, Ontario.
To enter the competition Lindie Blackwell was required to submit a collection of five different coloured hairstyles showing a before and after picture of each person. The collection of photos from all entrants were then put through two rounds of judging to determine the finalists. The first round was judged live by experts in the Canadian beauty industry, with the second round being completed online by a panel of international beauty experts. Previous panels of judges have included beauty editors, photographers, and celebrity hairstylists.
Lindie Blackwell is a ten-time award winner including the 2014 Master Colorist of the Year and 2013 Canadian Colourist of the Year. Ivo Tiberio, Owner of Gravity Salon and Spa, stated, "It's an amazing accomplishment by Lindie to be named as a finalist. Her hardwork and dedication are not only found in the styles she's being judged on in the competition but also in the hairstyles and relationships she has with all of her clients. We are incredibly proud of Lindie, and hope to see her named as the winner of the 2015 Master Colourist Award."
The Contessa Canadian Hairstylist of the Year Awards started in 1988 and has a proven track-record of excellence. The awards are open to all licensed beauty professionals across Canada. The Master Colourist category judges on the overall hairstyles but also the technical and creative innovation regards to the hair colour used in each of the submissions. There are twenty-three category awards to be given out at this year's gala with a focus on hairstyling, colouring, make-up, and nail beauty.
Lindie Blackwell's collection of work can be found on the Contessa Finalists page, https://salonmagazine.ca/contessa-finalists-2015/258-master-colourist/2210-contessa-finalist-collection-by-lindie-blackwell.html.
###
Lindie Blackwell, is a Senior Stylist working out of Gravity Salon and Spa in Barrie, Ontario. She is also a stage artist and member of Goldwell's North American Artistic Team, travelling throughout Canada and the United States sharing her passion and expertise with fellow hairstylists. Her work has been published in many trade magazines and she has also appeared on Breakfast Television.
For Additional Information About Lindie Blackwell, Please Contact:
Ivo Tiberio, Owner
Gravity Salon and Spa
705-252-3992
ivo@gravitysalonandspa.ca
For Additional Information About the Contessa Hairstylist of the Year Awards:
https://www.salonmagazine.ca/contessa-about.html
(Barrie, Ontario) October 21, 2014 – Senior Stylist, Jamie Dennis, represented Canada at the recent Goldwell Color Zoom Challenge that took place in Berlin from October 11th to 13th, 2014. She was selected to be the Canadian Finalist in the Partner Category by a panel of Goldwell judges, which allowed her to attend and compete against twenty other international competitors in a head-to-head challenge during the global event that took place at Station Berlin earlier this month.
The Goldwell Color Zoom Challenge is an annual international hair coloring competition with 70 finalists from 28 different countries competing at the global event. To become a finalist and represent Canada, Jamie Dennis was required to submit a photo of a unique hair color style she completed using Goldwell products. Her photo entry was then judged against all other entries from Canada in the Partner Category; where she was selected as the finalist to represent Canada.
The Goldwell Color Zoom Challenge in Berlin required Jamie to compete against 20 other international competitors in a live event that saw each finalist recreate their regional winning color style. The Partner Category was eventually won by Lok Chan of Hong Kong, with Lidia Malez from Russia winning the New Talent Category, and Hardy Tsai taking top honors in the Creative Category.
Jamie Dennis' representation of Canada at this event showcases the industry talent found locally here in Barrie and Simcoe County. According to Ivo Tiberio, Owner of Gravity Salon and Spa, "we are incredibly proud of Jamie for her efforts in this event. Her accomplishment of representing Canada is a reflection of the hard work and dedication she puts forth on a daily basis to mastering her craft as a Senior Stylist and Master Colorist with all of her clients. Jamie has shown the world the level of talent that can be found right here in Simcoe County, for which, we would like to extend our gratitude and appreciation."
The Goldwell Color Zoom Challenge is an annual event and the next global event will take place October 3-5, 2015 in Las Vegas, Nevada.
###
Jamie Dennis, is a Senior Stylist, working out of Gravity Salon and Spa in Barrie, Ontario. In addition to her hairstyling and coloring, for which she has become renowned for her innovative work with curly hair and unique hair types, she also develops stylist programs for Goldwell.
For Additional Information About Jamie Dennis, Please Contact:
Ivo Tiberio, Owner
Gravity Salon and Spa
705-252-3992
ivo@gravitysalonandspa.ca
For Additional Information About Goldwell Color Zoom Challenge:
www.colorzoom14.com