It's been less than a month since Gravity Salon Professionals committed to being a drop-off location for the Fill a Purse for a Sister campaign, and the feedback so far from our clients and the community has been incredible! We have received so many purses and backpacks already, and encourage people to continue to drop them off at our salon until December 1st, when the campaign comes to an end!
The Fill a Purse for a Sister and the Fill a Backpack for a Youth campaigns were founded by social worker and activist, Angel Freedman. The purpose behind Fill a Purse for a Sister and Fill a Backpack for a Youth is to ensure that women and youth who are in need in communities across the GTA have access to essentials and little luxuries that every person deserves to have in their life.
Statistics show that women are more likely to live in poverty than men, that they are more likely to be placed in precarious job positions than men, that 80% of lone-parent families are led by single mothers (the average yearly income for lone-parent family headed by a female is $21,200, which is HALF of the yearly earnings of male lone-parent family), and that women who live in poverty are more at-risk of staying in an abusive relationship out of fear that they won't be able to support their family.* The reality of these statistics as well is that when women are living in poverty, their children are often living in poverty as well.
Now after reading this you may be asking "what can I do to help?" The Fill a Purse for a Sister and Fill a Backpack for a Youth Campaigns are amazing ways that you can get involved and know that your efforts have gone directly to a person who needs it most. You can either fill a new or gently-used purse full of books, feminine hygiene products, coffee shop gift cards, make-up, shampoo and conditioner anything else that you think a woman may want to keep in her purse on a regular basis; or a backpack full of school supplies, toys, clothes, books and hygiene products for local youth who may not have the luxury of owning these items on their own.
If you have any questions about the campaign, or other ways that you can help local community members in need, don't hesitate to give us a call at the salon at 705-252-3992 or send us a Facebook message on the Gravity Salon Professionals Facebook page! We thank you for all of your support this far, and for your commitment to making a difference in our amazing community!
*statistics were taken from https://www.canadianwomen.org/wp-content/uploads/2017/09/Facts-About-Women-and-Poverty.pdf 
Gravity Salon Professionals really is Barrie's Best Salon.
Winning Barrie's Favourite Salon for a second year in a row is such an honour to the entire Gravity Salon family and we can't thank our clients and community enough for their overwhelming support! What is even more exciting though, is that this year, our salon owner Ivo Tiberio, has been recognized as Barrie's Favourite Colour Technician as well! Ivo is so thrilled about this recognition, and wanted to share some words on what these awards mean to him as both a Master Stylist, and as a business owner:
"After 34 years of being a stylist, I am thrilled to be recognized by my community and by my clients as Barrie's Favourite Colour Technician. Receiving any award that recognizes your talent and accomplishments is an honour, but the fact that it came from my community and from my clients has made it so much more special to me, and I am so genuinely proud of this achievement. I take great pride in each and every guest that comes to visit, and it means so much when it's my clients who are supporting me and acknowledging the work that I do, in the field that I love the most. The hair industry is very near and dear to my heart, as I have been a part of it from a very young age. I have been a licensed stylist for 34 years, but what many people do not know is that I have been a part of the industry for so much longer than that. Ever since I was a kid, I was always helping out in my family's salon; helping to shampoo peoples' hair and sweep floors, and continue to develop my passion for styling that has gotten me to where I am today. I have developed both as a stylist and as a person since then, but one thing that has never changed for me is the joy that I feel when I see people light up after they see what their stylist has created, and the new-found bounce in their step when they leave the salon. Alongside being a licensed stylist, I have also had the great privilege of working for Goldwell to help train both junior and senior stylists on a National level. Working with Goldwell has been such an amazing opportunity because it taught me so much as a stylist and a colourist, but it also allowed me to share my knowledge and experience with my colleagues, and to contribute to the hair industry in a meaningful way.
Another thing that means so much to me is the community that voted for me. I have lived in Barrie for 17 years and have always dreamed of having a successful business here. I love Barrie because it has a small-town feel with big-city amenities. I truly feel like Barrie is reflective of my own personality – being relaxed, professional and inviting, and I feel that this has been reflected within Gravity as well. I made it my goal to create a warm and inviting atmosphere with high-quality, big-city talent and I am honoured that the community feels that this is reflected in both my personal work, and the work space that I have worked so hard to create. 
 I cannot thank everybody enough for taking the time to vote for both myself and the salon and I look forward to continuing to deliver excellent service and maintain our title as Barrie's Favourite Salon for years to come!"
Ivo Tiberio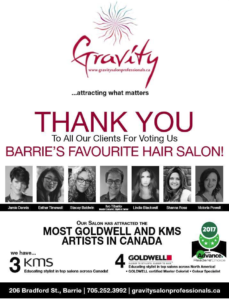 We would like to thank everyone who voted us BARRIE'S FAVOURITE SALON! Also, a humongous thank you to all our fantastic clients and friends who continue to trust us, we could not have accomplished this without any of you! Finally, last but certainly not least, THANK YOU to our amazing Gravity Salon family, we would not be BARRIE'S FAVOURITE SALON if it weren't for our amazing talented and unique group!
WHAT AN AMAZING TEAM, THANK YOU TO EVERYONE !!!!!!
It's @greencirclesalons collection day here at GRAVITY SALON PROFESSIONALS!
In just a couple of months we have recycled 4 full bags of hair, 3 full bags of foil and 2 full bags of hair colour and chemicals!!!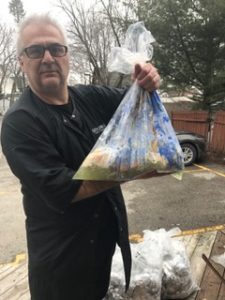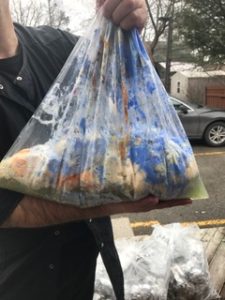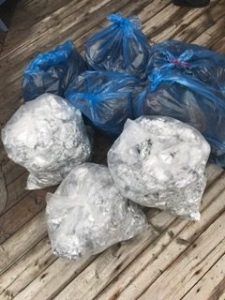 #Greencirclesalons       #enivromentallyfriendly     #Gravitysalonprofessionals   #Goldwell #KMS #reducereuserecycle
Riley Ough was excited to cut her hair last month in support of Gilda's Club Simcoe Muskoka. The 16 year old hadn't had a haircut in over 3 years and had more than enough to donate to 360 Hair. The goal was to raise awareness and funds for Gilda's Club Simcoe Muskoka and was a true success with the community coming together to help raise over $410 in support of Riley Cuts 4 Cancer.
A HUGE Thank You goes out to Jamie Dennis, Master Colourist & Senior Stylist at Gravity Salon Professionals located at 206 Bradford St. who donated her time & skills to make Riley's hair look amazing after the BIG cut! Great work Riley, it's very impressive to see a young woman going above and beyond to help those in need while supporting a local organization like Gilda's Club at the same time! For more info please visit   www.barrie.snapd.com/event/971989#/    or   www.gildasclubsimcoemuskoka.org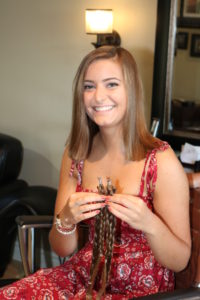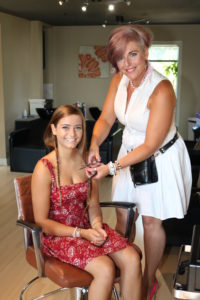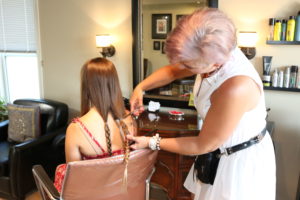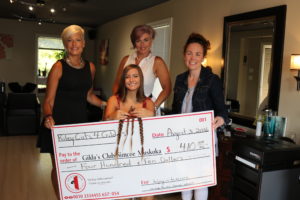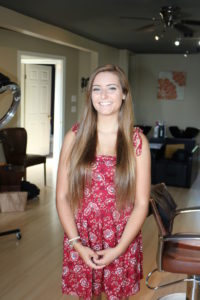 Check out the latest edition of Barrie's Good Life Magazine, Art and Soul of Barrie.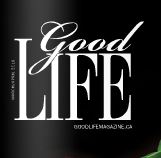 Gravity Salon,….. attracting what matters
Click here,     GOOD LIFE    Gravity can be found on page 25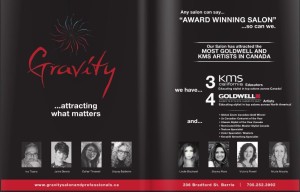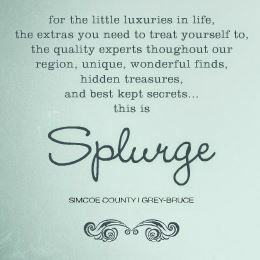 Check out our two page feature in the 2016 Splurge Magazine, stop by our salon to pick up a copy
"Gravity is a hair destination," he said. "We will give you a world class experience right here in Barrie. We are proud to bring the talent and creativity of a top International salon to Barrie and I invite you experience Gravity. It's our little secret!"
With the majority of our team being national and international Guest Artists/educators for Goldwell and KMS California, it is easy to see that education and training are our passion here at gravity. By educating other stylists, we are able to continuously broaden our wealth of knowledge and share it with both the team and our clients back in the salon.
Beyond the environment, however, the technical skills are top notch and unmatched in the area. While each stylist brings high energy as well as unique specialties and personalities, the Gravity Salon team is truly inspiring.
www.gravitysalonprofessionals.ca
GRAVITY SALON is proud to be a GREEN CIRCLE CERTIFIED SALON
Hair salons produce a huge amount of waste every year, Certified Green Circle Salons are now recycling and repurposing things like shampoo bottles, colour tubes and foil wraps. Their goal is to make the entire salon industry sustainable by 2020
One of the program's more unique aspects is how it goes about re-using all of the cut hair from clients. The hair is sent to a Burnaby warehouse and is made into hair booms which can be used to mop up oil spills.
Hair, it turns out, attracts oil and repels water better than almost any other substance. Some of the hair booms made by Green Circle Salons were used to soak up the BP oil spill in the Gulf of Mexico.
Three thousand hair booms are stuffed and on standby in the Burnaby warehouse in the event of a local spill. The booms are being made by female inmates in Maple Ridge and they're free to anyone who wants them.
To learn more on this please watch this CTV News video… https://bc.ctvnews.ca/a-cut-above-recycled-hair-helps-mop-up-oil-spills-1.2407194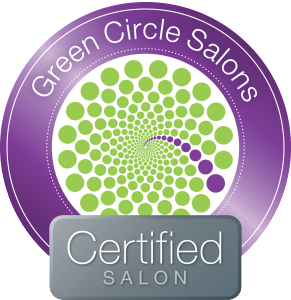 Link to this post
Dear Gravity Friends, Family and Clients,
With a society that is more focused on preserving the environment than ever before, the salon industry is stepping up its efforts to become as eco-friendly as possible. Here at Gravity, waste reduction has been a priority since we opened our doors over 5 years ago. Whether it be using reusable mugs, to recycling foils, colour cans and virtually anything else possible or even using machine washable hand towels in our washrooms, Gravity Salon Professionals has always made a conscious effort to protect the environment.
Our next step is to expand our efforts by becoming a certified Green Circle Salon. With this certification we will be able to recycle even more waste than we already have been.  What does this mean? Green Circle Salons is a special recycling/repurposing program that ensures hair, foils, color tubes, plastics, papers, and chemicals are diverted out of our landfills and water systems. That is 90-95% of our salons waste! That's right! Even the hair we sweep from the floor is repurposed. Hair can be used to help clean up oil spills, as a gardening tool to keep away rabbits, deer, etc. as well as a natural fertilizer as it decomposes and we are proud to be a part of this Green Initiative to Revolutionize the Industry.  In order to be a part of this sustainable initiative we will be adding $1.50 to each visit to Gravity Salon. Reducing your carbon footprint and having a great hair day all rolled into one. The impact that we have is KEEPS PEOPLE AND THE PLANET BEAUTIFUL!
We hope that you will support us in keeping Gravity Salon Professionals environmentally friendly and reducing our eco-footprint while still offering the same great services! For any questions or concerns please don't hesitate to contact us; and for further information on the Green Circle Initiative follow the link to the Green Circle website to see everything that this great organization has to offer:  www.ontario.greencirclesalons.ca
Sincerely,
Ivo Tiberio
Gravity Salon Professionals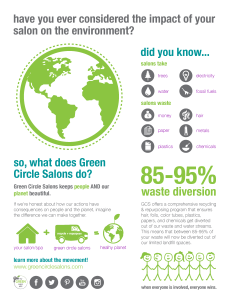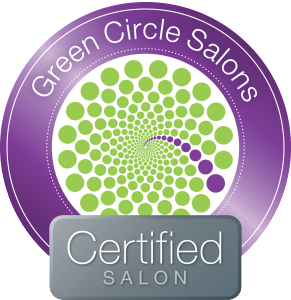 With the majority of our team being national and international Guest Artists/educators for Goldwell and KMS California, it is easy to see that education and training are our passion here at gravity. By educating other stylists, we are able to continuously broaden our wealth of knowledge and share it with both the team and our clients back in the salon.